I obsessed thought and thought and thought about how I was going to fix the headband situation in my kids' bathroom. The situation was, my daughter has a heap of headbands in the bathroom drawer. And when you open the drawer, they jam it up because they are going wild in there!
So, I researched solutions. I saw so.many.ways to make different headband holders but I just wasn't sure if they would work for me.
My criteria was simple: easy for a 4-yr old, out of sight, fast to make, solves problem, and cheap is always good!
My solution: Hide the headbands inside the cabinet...
Paper Towel Holder ~from the dollar store (complete with screws)
Roll of paper towels
(not a double roll, or use some up first)
Fabric (check your scraps!)
Hot Glue Did I really need to type that out? Pretty self explanatory, I think. You see where I'm going with this?
Step 1:
Attach the paper towel holder to the inside of a cabinet door. MAKE sure that you can close the door with a roll of paper towels on the holder! Also do not screw through your nice doors. I pre-drilled halfway to get a good start and then tightened the screws by hand.
By the way, this is the hardest step.
Step 2:
Hot glue fabric to paper towels. Fold/glue your raw edge over to make it look neat. Tuck the ends right into the tube. Seriously, that is what I did.
Step 3:
Put roll on the holder, seam side down. Too easy!
I let my daughter pick the fabric from my stash. I was surprised, but happy, that she chose this Anna Maria Horner print. Since my daughter *only* wears headbands, this craft was devised out of sheer necessity, not craftiness. But I am pretty sure I am going to make one for me...out of sheer craftiness!
And heck, if anything, I now have a roll of paper towels in my bathroom cabinet. I can think of a hundred reasons I need that.
Hope this solves any of your headband troubles!
MY Headband Holder!
**UPDATE: I just made one of these headband holders for me! I even painted the paper towel holder...click here.
Linking here: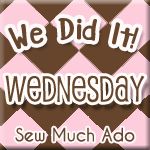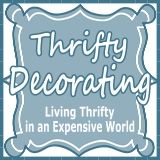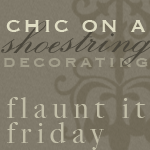 Monday: