I think I might have created a monster.
My daughter, who is four, loves. to. sew. And she especially likes to sew with my machine. I finally gave in and let her try. I had to prop up the pedal on a box of copy paper with a book and sticky shelf liner just so she could reach it. I also put the speed down to the very slowest that the machine would go.
She was just
begging
to sew. How could I refuse?! So I made up this little craft that turned out to be a great idea! I think these little cuff bracelets would also
make cute gifts

.
I could also make, say a coaster or key fob, and let her decorate it with different stitches. Easy gift ideas that aunties would love...just sayin!
All I did was sew up (super quickly) a rectangle of fabric. Then I turned her loose on my machine. She was mainly interested in the different kinds of stitches, so I showed her how to type in the numbers.
I was really nervous about letting a four year old use my machine, but she surprised me! She really tried to make something nice. And because she enjoyed using the big grown-up machine, she was a very, very good listener about it.
I learned to give my kids a chance. They are capable of surprising me- in a good way.
:::::HOW TO MAKE THE STELLA CUFF BRACELET:::::
Step 1.
Step 2.
Choose a colored thread. Also a GREAT way to use up some of those funky colors you bought a long time ago.
Step 3. Sew away. Change thread colors. Change stitches. Let her go. Whatever she wants.
Step 4. Add a button/button hole. She helped hand stitch the button.
Yes, it is a little crooked, but it looks perfect!!!! All sewn by her four-yr old self!!
Step 5.
Admire... I know you are so proud because you made it!!
And now, I hear everyday on the way home from school, "Mommy can I sew when I get home?" Every day.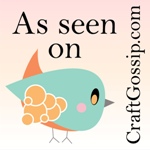 Linking here: